This is a list of the world's best surf brands, in no particular order. We've included each surf company's logo, their official "about us" statement and links to their websites and social media channels.
The surf industry is at an interesting intersection. The Big 3 brands – Rip Curl, Quiksilver, Billabong – are up against stiff competition from Hurley, Volcom, Reef and numerous niche outliers, like Outerknown and The Critical Slide Society. Note that Quiksilver's parent company, Boardriders Inc, purchased Billabong in 2018, to create a new super surf conglomerate that includes Roxy, DC Shoes, Von Zipper, Element and RVCA.
The list includes surf fashion brands, surfboard shapers and gear manufacturers. Enjoy this trip through surf brand heaven, complete with images and videos from every company.
---
Quiksilver  
"Quiksilver has top of the line clothing and gear for every lifestyle. Every piece of Quiksilver clothing is designed for high performance and made with durable material, so if you spend 24 hours on the beach or on the slopes, Quiksilver clothes will always keep up. Quiksilver, Inc. is an American retail sporting company, founded in Torquay, Australia, but now based in Huntington Beach, California. It is one of the world's largest manufacturers of surfwear and other boardsport-related equipment."
https://twitter.com/quiksilver @quiksilver
https://web.facebook.com/quiksilver/
https://www.instagram.com/quiksilver
Citations:
---
Billabong
"Billabong International Limited is a surf company, primarily a clothing retailer that also produces accessories, like watches and backpacks and skateboard and snowboard products. It is a Sports wear and casual clothing manufacturer.Billabong was founded on Australia's Gold Coast in 1973 by surfer and surfboard shaper Gordon Merchant and his then partner, Rena. Those early days were rather inauspicious, with the pair designing boardshorts at home, cutting them out on the kitchen table and then carting the finished product around to the local surf shop to sell.
The business found immediate traction, with surfers drawn to the superior functionality of the Billabong boardshorts. They were also far more durable courtesy of the unique triple-stitching technique developed by Gordon.
The next step for the fledgling brand was to introduce the better local surfers to Billabong and incorporate them in the marketing of the brand. Company-sponsored contests and special events would later follow.
By the 1980s, Billabong had firmly established its place in Australian surf culture and was ready for international expansion. The initial focus was on the large North American market and, again, the brand enjoyed success."
https://twitter.com/billabong1973 @billabong1973
https://www.facebook.com/Billabong/
https://www.instagram.com/billabong/?hl=en
Citations:
---
Hurley
"The Essence of Hurley is based on our love of the ocean and its constant state of change. With deep roots in beach culture, we are all about inclusion and positivity. Our brand was started with the idea of facilitating the dreams of the youth. Music and art are the common threads that bring us all together. We are passionate about freedom of expression and the individual voice. We place a premium on smiles. Welcome to our world – imagine the possibilities."
https://twitter.com/hurley @hurley
https://www.facebook.com/Hurley
https://www.instagram.com/hurley/
---
O'Neill
"The original California surf, snow and lifestyle brand, was founded in 1952 when a young man named Jack O'Neill took his unstoppable passion for surfing and used it to battle Mother Nature. Jack's initial vision of producing functional and innovative board riding products continues to lie at the core of everything the company does. From the first neoprene surf wetsuit and board leash to the world's first stitchless board shorts. O'Neill will always be committed to growing its reputation as one of the world's leading youth lifestyle brands based on being the First Name in the water. While many things have changed since those humble beginnings, Jack's initial vision of producing functional and innovative board riding products continues to lie at the core of everything the company does. O'Neill's core values — innovation in style and technology — have seen the brand devote itself wholeheartedly to the evolution of the action sports lifestyle. O'Neill's progressive spirit will always drive the company forward."
https://twitter.com/teamoneill @teamoneill
https://www.facebook.com/ONeill/
https://www.instagram.com/oneill/?hl=en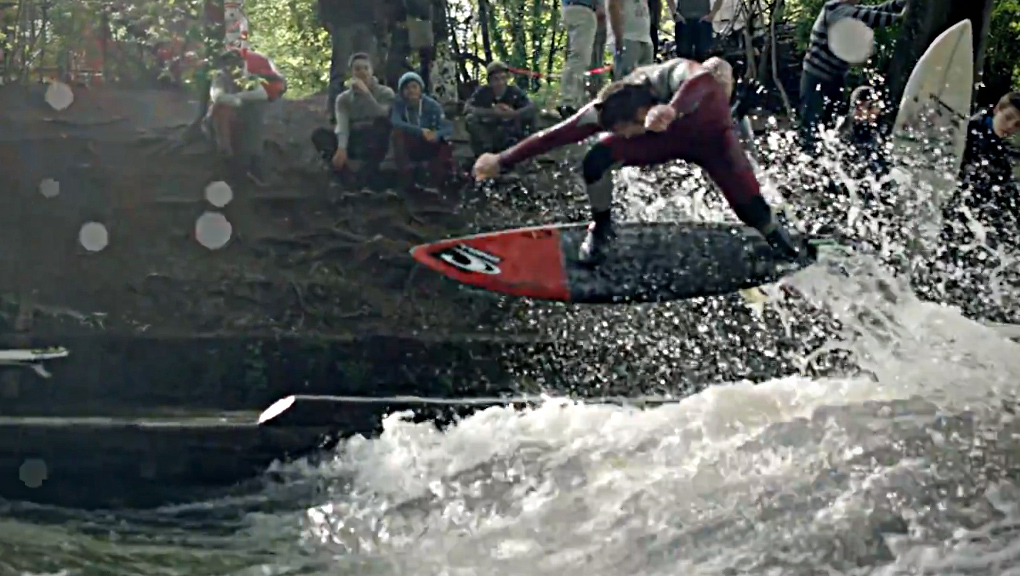 Citations:
---
RVCA
"It is the brainchild of company founder and president, PM Tenore. Transcending the boundaries of traditional action sports apparel, RVCA is a design-driven lifestyle brand free from passing trends. Appearing as a natural on the shelves of boutiques as on those of a local skate shop. RVCA is brought together by a group of like-minded individuals from various subcultures, a collaboration of sorts, a lifestyle within itself. PM Tenore's intention from the very beginning has to create a platform for RVCA, which combines art, music , fashion, and a modern lifestyle in an original way."
https://twitter.com/RVCA @RVCA
https://www.facebook.com/rvca/
https://www.instagram.com/rvca/?hl=en
Citations:
---
Vans
"Vans is an American manufacturer of shoes, based in Cypress, California, owned by VF Corporation. The company also produces apparel and other products such as T-shirts, hoodies, socks, hats, and backpacks.Vans was founded in 1966 by Paul and James Van Doren, Serge Delia, and Gordon Lee. It has stood for authenticity in youth lifestyle, music, and action sports since day one."
https://twitter.com/VANS_66 @VANS_66
https://www.instagram.com/vans/?hl=en
Citations:
---
Volcom
"Volcom was founded in 1991 on the belief that there is a higher level of consciousness to be found within one's self through the internal and external journeys that board-sports, music, art and film provide. The company prides itself on making quality apparel, outerwear, footwear and accessories that not only exemplify the lifestyle, but also enhance the ability to live it. By being the first to combine surfing, skating and snowboarding under one brand from inception a new future was forged and a generation of liberation was born. For over two decades Volcom has been TRUE TO THIS… the quest for Spiritual Intoxication."
https://twitter.com/Volcom @Volcom
https://www.facebook.com/Volcom/
https://www.instagram.com/volcom/?hl=en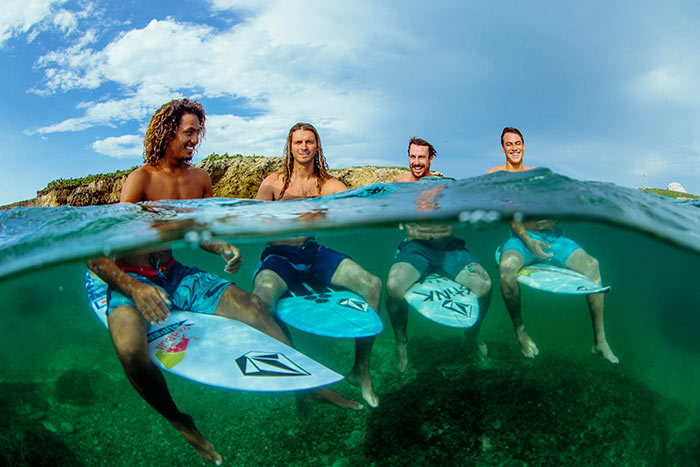 Citations:
---
Reef
"After twenty-five years, Reef is thriving as one of the leading surf brands in the world offering footwear for guys, girls and kids. Reef has evolved from its humble sandal beginnings to now include a men's apparel division launched in 2003, followed by the launch of girl's swim and apparel in 2008. Reef also recently launched Reef Redemption; a program intended to lessen our footprint on the Environment. Reef Redemption initiatives thrive through a product series using green technology, our culture of giving and our in-house efforts to work towards a more environmentally friendly work environment. Through all the change over the past twenty-five years, Reef is driven by the same constant – we are surfers at heart, drawing influences from the world around us. We still stand for the same foundation that the company was founded on by Fernando and Santi back in 1984. Reef is a core surf company. We create authentic and innovative products intended to nurture an incredibly fortunate lifestyle that involves surf, sensuality and a life filled with happiness."
https://twitter.com/reef84 @reef84
https://www.instagram.com/reef/
On Surfd ~ We love Reef Girls
Citation:
---
Roxy
"ROXY is a fashion brand inspired by the Mountain and the Wave. Since our inception in 1990 with the first women's specific boardshort inspired by Lisa Andersen, we have always empowered girls to live their dreams and explore this world we live in. We create adventure-inspired, purpose-driven fashion that motivates women to live richer, more engaged lives. From our foundation in swimwear, the ROXY store is exclusively for girls and features best priced technical surf wear, wetsuits, rash vests, snow outerwear, base layers, snowboards, beach clothes for women, surf apparel, girl swimsuits, bikini, tankini, boardshorts, women's active and fitness wear, including yoga and beach accessories, dresses, knits, sweaters, denim, footwear, boots, sandals, thongs, shorts, leggings, tops, watches and other accessories."
https://www.roxyaustralia.com.au/
https://twitter.com/ROXY @Roxy
https://www.instagram.com/roxy/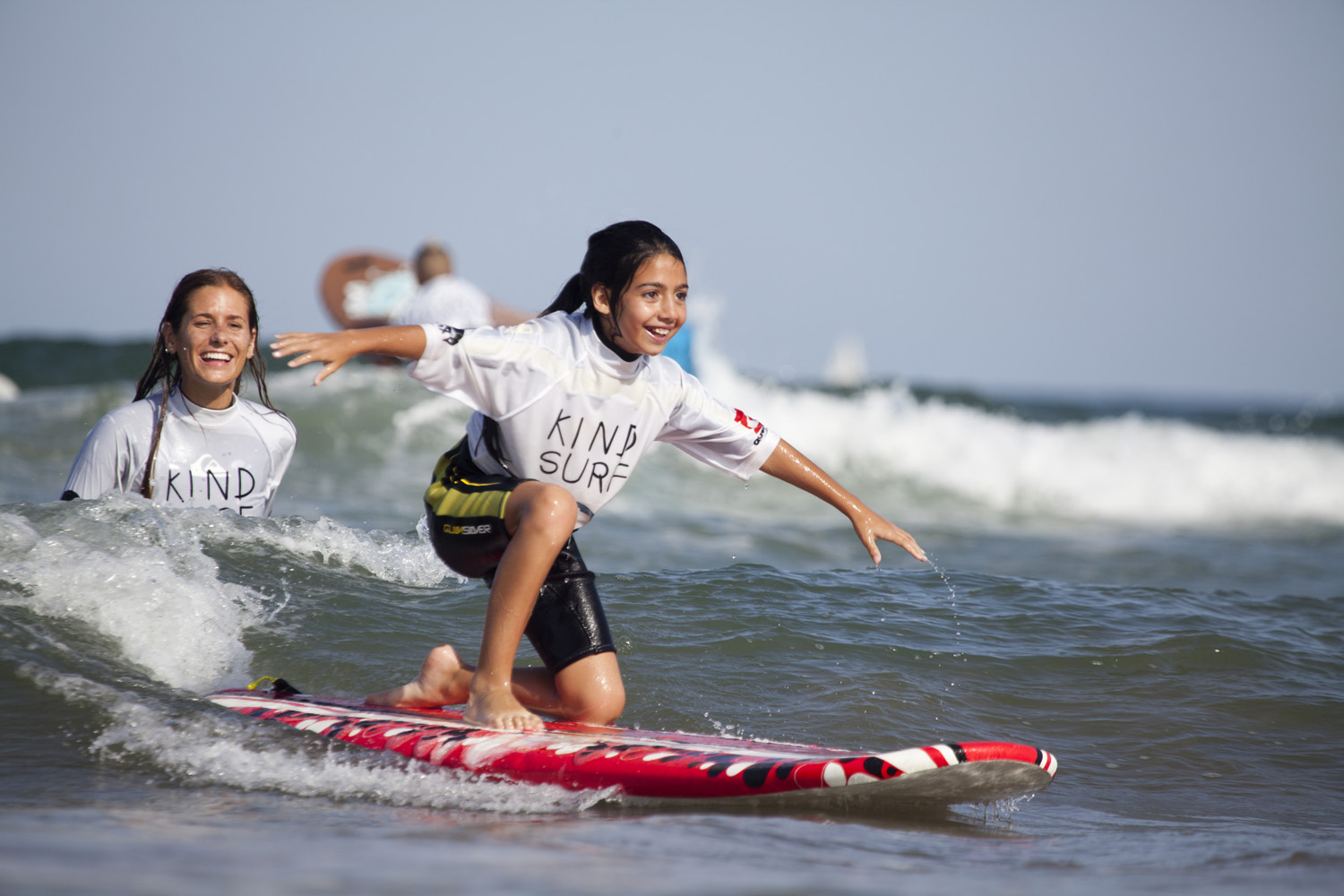 Citations:
---
Ripcurl
"What started in 1969 as a vision or 'Search' of two friends has grown into a philosophy and way of life for surfers and boardsport enthusiasts worldwide. In 2019 Rip Curl was acquired by Australiasian outdoor company, Kathmandu. However, Rip Curl will remain an independent brand, continuing to design, producing, and distribute a variety of innovative products in more than 60 countries worldwide, Rip Curl takes pride in our world-class roster of surfers and the simple objective to Live The Search."
https://twitter.com/ripcurl_usa @ripcurl_usa
https://www.facebook.com/ripcurl/
https://www.instagram.com/ripcurl_usa/
Citations:
---
Channel Islands Surfboards
"Since 1969, Channel Islands Surfboards has been dedicated to performance and quality through hard work, innovation, and originality. Over the last 43 years, Channel Islands has grown from a local grass-roots operation to a cutting edge organization, catering to the best surfers in the world. It started with hard-core surfing and quality in mind and these guidelines have brought us through four decades of constant change in the surf industry. Channel Islands will shape the new millennium with innovative design and quality as our main focus."
https://twitter.com/cisurfboards @cisurfboards
https://web.facebook.com/cisurfboards
https://www.instagram.com/cisurfboards/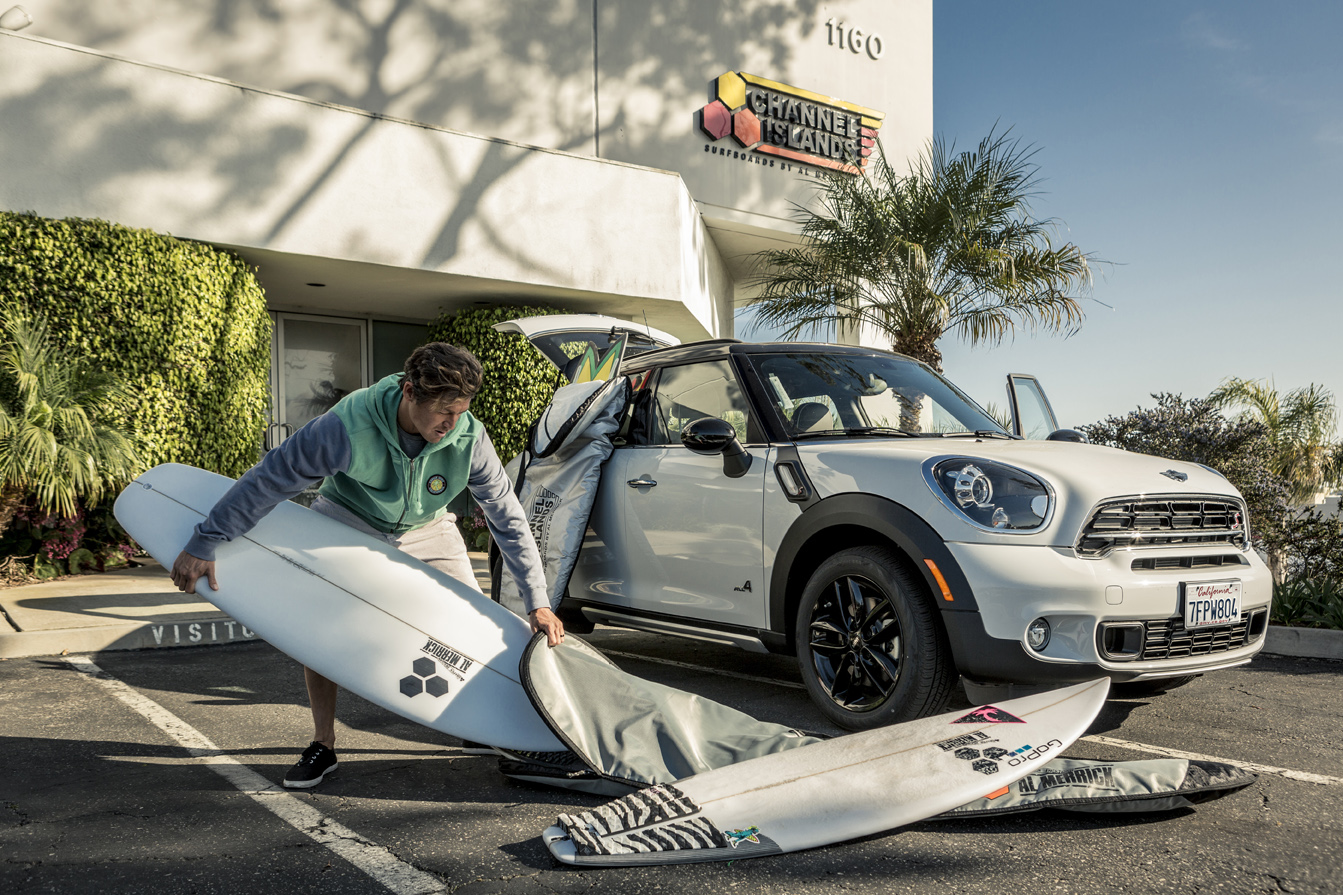 Citations:
---
Nixon
"Founded in 1998 in Encinitas, CA, Nixon is the premium watch and accessories brand for the youth lifestyle market. Focused on making the little stuff better, Nixon began with a small line of team-designed, custom-built watches sold exclusively in specialty boardsport and fashion retailers. Currently distributed in over 90 countries, Nixon's product range has grown to include select soft goods, leather goods, custom audio products and more."
http://twitter.com/Nixon_Now @Nixon_Now
http://instagram.com/nixon_now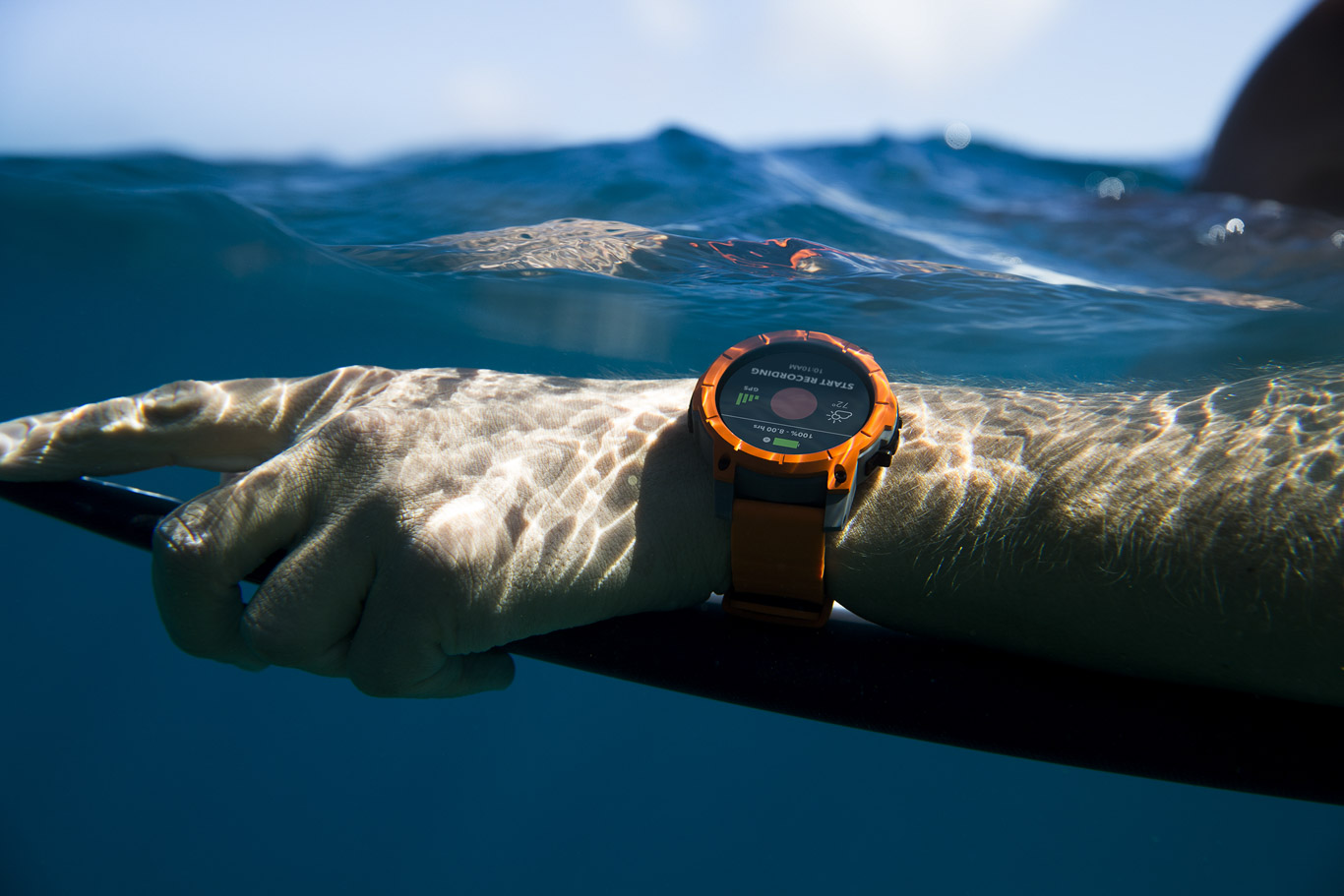 Citation:
---
Patagonia
"Patagonia grew out of a small company that made tools for climbers. Alpinism remains at the heart of a worldwide business that still makes clothes for climbing – as well as for skiing, snowboarding, surfing, fly fishing, paddling and trail running. These are all silent sports. None require a motor; none deliver the cheers of a crowd. In each sport, reward comes in the form of hard-won grace and moments of connection between us and nature.
Our values reflect those of a business started by a band of climbers and surfers, and the minimalist style they promoted. The approach we take towards product design demonstrates a bias for simplicity and utility.
For us at Patagonia, a love of wild and beautiful places demands participation in the fight to save them, and to help reverse the steep decline in the overall environmental health of our planet. We donate our time, services and at least 1% of our sales to hundreds of grassroots environmental groups all over the world who work to help reverse the tide.
We know that our business activity – from lighting stores to dyeing shirts – creates pollution as a by-product. So we work steadily to reduce those harms. We use recycled polyester in many of our clothes and only organic, rather than pesticide-intensive, cotton.
Staying true to our core values during thirty-plus years in business has helped us create a company we're proud to run and work for. And our focus on making the best products possible has brought us success in the marketplace."
https://twitter.com/patagonia @patagonia
https://www.facebook.com/PATAGONIA/
https://www.instagram.com/patagonia/
Citation:
---
Dakine
"We make gear for people who love being on the mountain or in the water enough to have figured out a way to spend their lives doing it. It's all about more days on the mountain; more days in the water. Dakine was founded in 1979 on Maui and moved to Hood River Oregon in 1986."
https://twitter.com/dakineshop @DakineShop
https://web.facebook.com/dakineshop/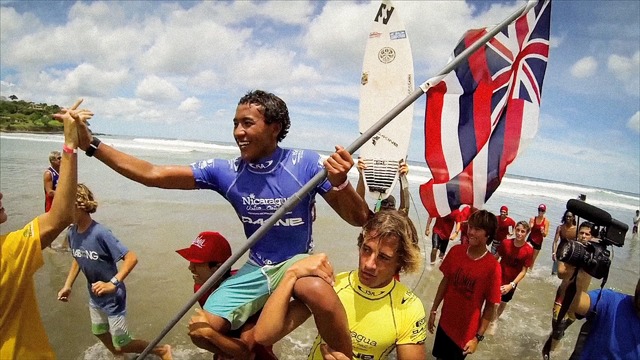 Citations:
---
Sanuk
"Taking its name from the Thai word for Fun, Sanuk is a global lifestyle brand known for its funky sense of style, lo-fi innovation, and delightfully irreverent humor. Primary product franchises for the Brand include its Yoga Mat Sandal Collection and its patented "Not-A-Shoe" Sidewalk Surfers, which introduced and defined the entire hanging closed-toe footwear category. The Brand continues to rapidly attract a uniquely passionate fan following through its addictively comfortable products and invitingly off-center worldview. Sanuk is distributed in over 70 countries worldwide and is a proud member of the Deckers Outdoor Corporation. "
https://twitter.com/SanukFootwear @SanukFootwear
https://www.facebook.com/SanukFootwear/
https://www.instagram.com/sanuk/?hl=en
Citations:
---
Critical Slide Society
"The Critical Slide Society (TCSS) was founded in 2009 in a sleepy seaside village on the Central Coast of NSW Australia. Launched by a couple of surfers and artists, Jim Mitchell and Sam Coombes, the founders had the vision of an authentic, creative label as a platform that celebrates an emerging alternative movement within surf culture: one that's less about the winner's podium and more about the simple joy of a deeply engaged surfing life. TCSS works with artists, photographers, designers, filmmakers, surfers from across the globe, all of whom share a similar outlook inspiration. TCSS prides itself on its unique approach its detail orientated design. The brand won Best Boardshort two years running TCSS apparel goods are now stocked in some of the most respected retail stores around the world."
http://www.thecriticalslidesociety.com/
https://twitter.com/slidesociety @slidesociety
https://www.facebook.com/thecriticalslidesociety/
https://www.instagram.com/tcss/
---
Globe
"Founded in 1985 by three Australian brothers, Globe International Limited is a global producer and distributor specialising in purpose-built apparel, footwear and skateboard hard goods brands for the boardsports, street fashion and workwear markets."
https://twitter.com/globebrand-@Globebrand
https://web.facebook.com/globebrand?_rdr
https://www.instagram.com/globebrand/
https://www.youtube.com/watch?v=DNGLcHQZgcw
Citation:
---
Vissla
"Vissla is a clothing brand that represents creative freedom, a forward-thinking philosophy, and a generation of creators and innovators. We embrace the modern do-it-yourself attitude within surf culture, performance surfing, and craftsmanship. This is a surf-everything and ride-anything mentality."
https://twitter.com/vissla @vissla
https://www.facebook.com/vissla/
https://www.instagram.com/visslasurf/
Citations:
Grind TV
Surfingmagazine.com
---
Insight 51
"We nurture some of the surf and skate world's most humble yet radical folk, and lead by a motley crew of designers and artists – young, idealistic and oozing creativity – the Insight family follow their intuition and pay little attention to where the crowd is headed."
https://twitter.com/insight51 @insight51
https://www.instagram.com/insight.51/
Citations:
---
Outerknown
"Outerknown explores the relationship between function, style and sustainability. As designers, it challenges us to build better, more sustainable products. As producers, it asks us to lift the lid on our supply chain, bringing the consumer along on our journey to transparency. As storytellers, it enables perpetual evolution of our brand vision. As athletes and performers, it pushes us to formerly impossible levels. As global citizens, it offers the opportunity to observe this multi-cultural world we live in and bring together seemingly unconnected people and ideas for the purpose of discovering the next Outerknown."
https://twitter.com/outerknown_live @outerknown_live
https://web.facebook.com/oknwn/
https://www.instagram.com/outerknown/
Citations:
---
Rusty
"Whether you're tearing up an awesome A-frame, scouting the beaches for your next opportunity or watching the break from the shores, Rusty are right here with you, bringing you all the gear and surf clothing you need. We have a wide range of surf clothes and surf gear located across the globe. From Australia to New Zealand, Indonesia, Europe, USA, Brazil, Argentina and Japan, where ever you are in the world, we have you covered. With our wide range of Rusty surf clothes, you'll be ready for everything and anything the ocean throws at you."
http://twitter.com/rustyintl @rustyintl
https://web.facebook.com/rusty?_rdr
https://www.instagram.com/rusty_australia/
Citations:
---
FCS
"FCS fins were introduced to the Australian market in 1992 and released globally in 1994. The first FCS fin plug was patented shortly after the global release and it quickly became the world standard for removable fins. To this day FCS is the strongest, most successful, and also the most widely used surfboard fin system in the world.
Since its global release in 1994, 30 ASP World Titles and countless events have been won riding the FCS fin system. No other system can lay claim to a single ASP World Title in either the men's, women's, junior's, or longboard divisions. The success of FCS is a testament to its advantages over other fin systems, this includes traditional fixed fins as well."
https://twitter.com/surfFCS/ @surfFCS
https://web.facebook.com/FCSfins/
https://www.instagram.com/fcs_surf/
Citation:
---
Futures Fins
"We believe this is why surfers all over the world consider Futures the ultimate source for exceptional performance surf equipment created by surfers for surfers. It is about being authentic, challenging the status quo, and standing for the evolution of our sport. Sometimes it is even about pushing beyond what appears to make sense, because we believe that we can't find our limits unless we try to push past them. That is why we were the first to make a pre-lamination fin box that gets its strength from the fiberglass. Then later, when surfers were testing the limits of waves that were no longer paddle-able, we the first to develop stiff stable big wave fins."
https://twitter.com/FuturesFins @FuturesFins
https://www.facebook.com/FuturesFins/
https://www.instagram.com/futuresfins/
Citation:
---
Stussy
"In 1980, Shawn Stussy was a local cult surfboard shaper who took his scrawled signature logo from his foam masterpieces and applied it to tee shirts that he sold with his boards around Laguna Beach, California.
As the clothing line expanded, it's raw and modern aesthetic soon developed into the next generation of new wave beach culture. We grew during a time when epochal shifts which eternally framed contemporary popular culture were taking place.
In the music scene, the late 70's gave us punk. Then the early 80's brought us into the new DIY music called rap. Punk broke creative and aesthetic barriers and taught us that anyone could have a band. Rap then preceded not only to push social boundaries but as well explore the ideas of remixing and sampling. These new ideas and territories created a new modern platform for fashion and cultural expression.
With Stussy's success came the opportunity to travel and spread the Stussy vibe. We hooked up with trendsetters in New York, London, Tokyo and other areas of the world. Stussy clothing was inspired by this international group of musicians, skaters, DJs and artists with similar tastes, which helped to shape the brand into an international street wear label.
Today, Stussy exists as a brand with worldwide respect and independence. With over sixty stores across the globe and a very strong tribe still in effect, Stussy is a leader in the culture which we helped start almost 30 years ago."
http://twitter.com/Stussy/ @Stussy
https://web.facebook.com/stussy?_rdr
https://www.instagram.com/stussy/
Citation:
---
Firewire Surfboards
"Firewire is dedicated to building high performance surfboards and accessories through innovative design, materials and construction methods. We strive to do so with the lowest possible impact on the environment while also giving back to the global surf community through support of various environmental and humanitarian organizations."
http://www.firewiresurfboards.com/
http://twitter.com/firewireboards @firewireboards
https://web.facebook.com/firewiresurfboardspage/?_rdr
https://www.instagram.com/firewiresurfboards/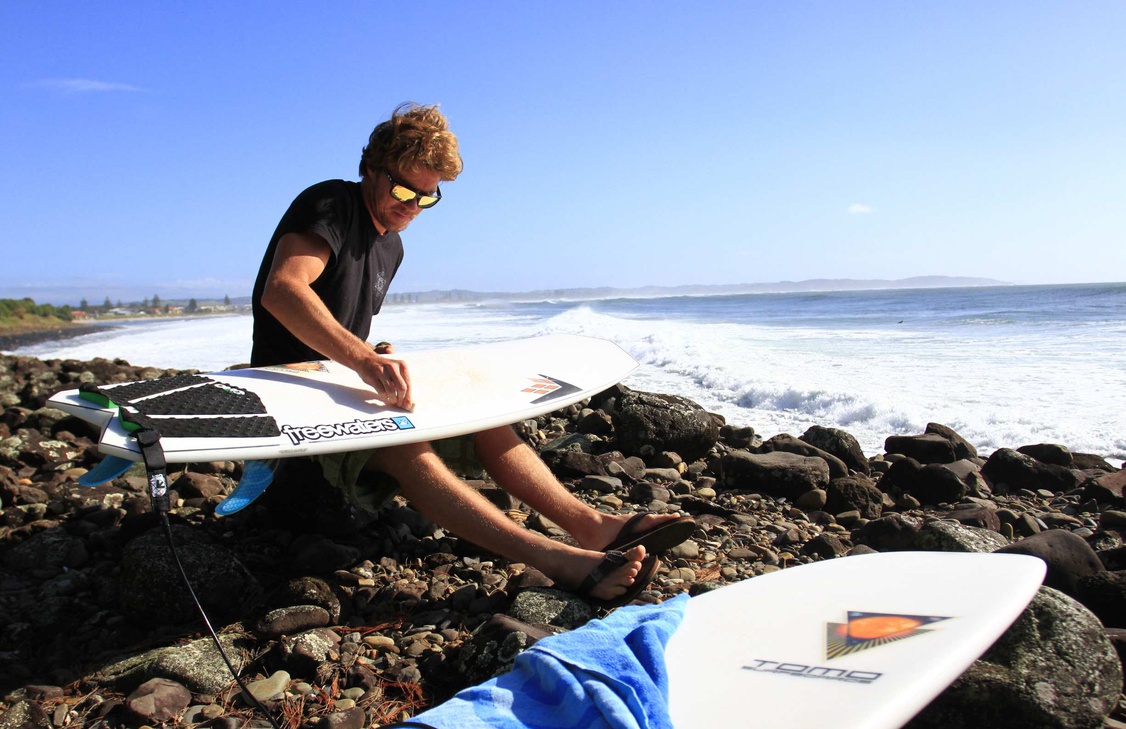 Citations:
---
Deus Ex Machina
"Deus ex Machina is a step bigger than a brand: it's a culture. Our openness and enthusiasm strike a chord with people, wherever they are…
Deus ("day-us") didn't set out only to sell custom parts and hand-built motorcycles, but to celebrate a culture of creativity. The Deus ex Machina showroom/cafe/headquarters in Sydney immediately became a shrine to 'run-what-you-brung' resourcefulness and street-honest industrial art.
The Deus philosophy recalls an era before the various pursuits of fun – motorcycling, surfing, skateboarding, whatever – were marketed into fundamentalist factions. All are welcomed under the Deus roof, where there's simply respect for the honesty and enjoyment of the machine. Inclusiveness, authenticity, enthusiasm. It's a simple and sincere pitch that has winged Deus ex Machina across the world. Deus ex Machina says simply there's no 'right way' to do individualism, its all the same juice."
http://twitter.com/deuscustoms @deucustoms
https://web.facebook.com/deuscustoms?_rdr
https://www.instagram.com/deuscustoms/
Citation:
---
Oakley
"Oakley, Inc. is a sport and lifestyle brand, driven to ignite the imagination through the fusion of art and science. Building on its legacy of innovative, market-leading optical technology, the company manufactures and distributes high performance sunglasses, prescription lenses and frames, goggles, apparel, footwear, and accessories. The essence of the brand is communicated through hundreds of professional and amateur athletes who depend on Oakley products to provide them with the very best while they redefine what is physically possible."
http://twitter.com/oakley @oakley
https://www.instagram.com/explore/locations/1032674157/
Citations:
---
 Von Zipper
"Von Zipper is about lifestyle and personality. Our mission is to develop, design and deliver premium eyewear, goggles, soft goods and accessories to the alternative mindset through participation in the sideways subculture and a commitment to the individual. Everything we do is a reflection of relationships; from employees and team riders, to our retailers and their customers. We bring smiles to faces and touch people with positive declarations of rebellion."
http://twitter.com//vonzipper @VonZipper
https://www.facebook.com/VonZipper/
https://www.instagram.com/vonzipper/?hl=en
Citations:
---
Xcel Wetsuits
"Born and bred on Oahu's North Shore, Xcel is a core wetsuit brand delivering premium wetsuit technology, accessories, sun protection, and more since 1982.
https://web.facebook.com/xcelwetsuits/?_rdr
https://www.instagram.com/xcelwetsuits/
Citations:
---
Ocean & Earth
"Ocean & Earth is a privately owned company based in Sussex Inlet, NSW, Australia, and is the world's leading manufacturer of surfboard leashes and surfboard covers. The company also makes surfboard tailpads (deck grips), tie down roof racks, boardshorts, and a wide range of apparel, including snow wear. Ocean & Earth was originally founded by Brian Cregan and Graham Williams's, but was later established by Brian Cregan and partners in 1978 producing a couple of basic surfing products and a staff of three. Ocean & Earth slowly grew by establishing a network of retailers throughout NSW & Southern Qld (Australia)."
http://www.oceanearthstore.com/
http://twitter.com/oceanearth1979 @oceanearth1979
https://web.facebook.com/OceanEarth1979?_rdr
http://instagram.com/ocean_earth/#
Citations:
---
Lightning Bolt
Born in Hawaii in the summer of 1971, Lightning Bolt was comprised of Gerry Lopez and Jack Shipley at the time of its inception. Forty years since first born, the brand has reintroduced itself in the United States and internationally.
Lightning Bolt at its core represents a philosophy that surfing, in its truest form, is a way of life rather than just another sport. Those behind the brand redefined surfing in the 70s as the sport and the lifestyle that surrounded it moved away from the traditions of the past and exploded into a new frontier of progression. Today the Bolt is still a symbol that embodies the spirit of that mythical antihero. The brand celebrates the passion of the individual and how surfing is one of the purest ways people can connect to nature while at the same time using it as a canvas for self-expression.
The Lightning Bolt brand opens up the countless opportunities for technological progression both in and out of the water. The company prides itself on manufacturing premium product for the conscious surfer that emphasizes quality, style and utility as well as supporting local manufacturing where possible. The brand maintains a strong global presence and place in culture and is poised for continued growth.
Website: https://www.lightningbolt-usa.com
Facebook
Instagram
Twitter
Pinterest
---
Want your surf brand featured? Get in touch with us and we'll be happy to oblige in Part 2.